Thanks to Perpetual Ofasi, Blue Skies Ghana for the report and the photos



At the beginning of the year a vegetable farm was started by Blue Skies at the Dam Site. The purpose of this initiative is to supply the canteen with fresh and hygienic vegetables. This is to promote good healthy eating life style among our staffs by encouraging us to balance our food intake with vegetables.
The Site
 An area called 'Dam Site' was selected for this project. Since this project is a pilot, a two acre land has been earmarked for the farm. Aside this, a 70m×50m plot was demarcated to be used for a nursery. Due to the sloping nature of the land, a strategic location has been selected to mount water reservoirs as the main source of water for irrigation.
Seeding at The Nursery
After the nursery was ready, seeding started on the 24th February, 2016. On this day only cabbage was nursed and lettuce, sweet pepper, hot pepper and tomato were nursed on 25th February, 2016. After 5 to 7 days (a week) germination was expected; lettuce was first to sprout followed by green pepper, hot pepper and tomato leaving the cabbage lagging behind. After close to two weeks about 95% of the cabbage failed to germinate, the cause of this is yet to be confirmed.  Due to this the two cabbage beds were collapsed and replanted on the 4th March 2016 with new seeds. After 3- 4 days (7th march) seedlings were visible so on the 7th March 2016 4 extra beds were redressed and planted. Cauliflower was later nursed the following day.
Field Preparation
The land was first ploughed and harrowed twice to break clear weeds and break the soil down respectively. After that, ridges were created all over the harrowed land and prepared to receive the seedlings from the nursery.
Irrigation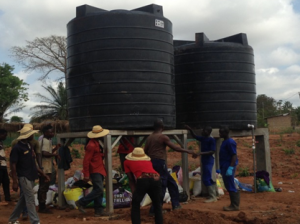 The main source of water for the farm is a bore hole. This bore hole is connected to two reservoirs which will later be connected to pipes to irrigate the land. Work on the whole irrigation system has already started. But for the mean time crops are being watered manually with watering cans and hose.