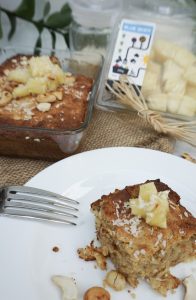 Ingredients
• 2 cups oats
• ½ cup dessicated coconut
• ½ cup unsalted cashews
• ½ teaspoon ground cinnamon
• pinch of salt
• 1 pack of Blue Skies Pineapple Chunks
• ½ cup coconut milk
• 2 eggs
•1 tsp vanilla extract
• ¼ cup coconut oil
• ¼ cup maple syrup
Method
1. Lightly grease non stick baking dish and preheat oven to 200 C
2. In a large bowl, combine all ingredients until fully mixed and spread out evenly onto baking dish
3. Sprinkle a few rolled outs and cashew pieces on top of mixture and place in oven for 20-30mins until golden brown.
4. Leave to stand for 10 minutes and serve with coconut cream or fresh pineapples.