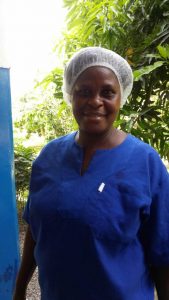 Lucy Kuffour of Blue Skies Ghana was born on the 16th of June 1958 and hails from Sekondi, in the Western Region. Lucy relocated to Nsawam to stay with her brother in 1978 after completing school, where she started supporting her Aunt in trading for a few years before she got a job with the Nsawam Cannery in 1978. She worked here for 18 years but had to leave when the company collapsed in 1996. She continued selling provisions for a couple of years before she got to know about Blue Skies with a friend; and so she applied for a job and became a Factory operative in 1998.
Lucy was then quickly promoted to assistant team leader after a year then to team leader in 2003. She has proven herself to be a very dependable person. She has been very grateful since she joined the company for the difference it has made in her life and has been one of the voices of the staff. She continues to advise the youth to ensure they understand and appreciate what the company is doing and the impact it can have in their lives if they contribute in a positive way to the objectives of the business.
Maa Lucy, as we affectionately call her, is a pillar for many and continues to be a mother figure to most of us.
We celebrate her this month as she prepares with pride, to retire in the next couple of years when she will be 60.
By Ruth Adjei, General Manager, Blue Skies Ghana.