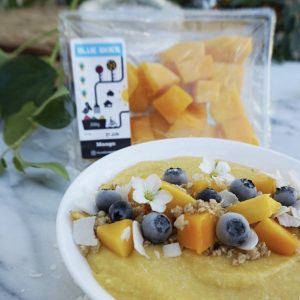 The perfect summer breakfast from Maiken Fortes 
Ingredients
200g Blue Skies fresh mango chunks
1 ½ cups of frozen diced coconut
(Optional) ½ cup coconut cream/milk
Method:
1) Place frozen coconut and fresh mango into your blender at medium speed until ingredients start to smoothen out.
2) For a creamier consistency add either coconut cream/milk (or any milk of your choice) to the mixture and carry on blending until smooth.
3) Pour mixture into bowl and add toppings of your choice. Shown: diced mango, coconut flakes, frozen blueberries and sprinkling of homemade granola.