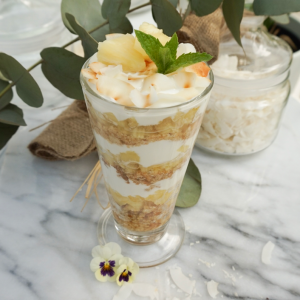 Use fresh pineapple and coconut in this tasty idea for a dessert.
Ingredients
3 cups crushed biscuit (graham crackers or digestive)
4 tbsp melted butter
3 cups crushed/minced fresh pineapple
1 cup heavy cream
4oz soft cream cheese
1 tbsp coconut flakes
Method
Combine crackers/digestives in a bowl with the melted butter until fully combined.
In a saucepan, pour in the crushed pineapple (include any fruit juices) and stir on medium heat until mixture is thick and jammy.
For the cream: Beat heavy cream until stiff. Then, fold in cream cheese and sugar.
Layers ingredients in a dessert jar and garnish with toasted coconut flakes, fresh pineapple and mint.