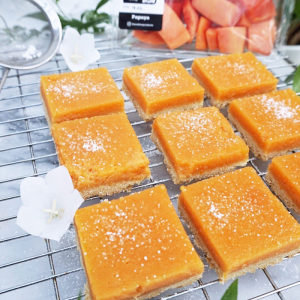 For the base:
¾ cup plain flour
2 tbsp light brown sugar
¼ cup diced unsalted butter
¼ tsp salt
For the filling:
1/4 cup white granulated sugar
1 1/2 tbsp plain flour
1/4 tsp salt
3/4 cup papaya puree (blend fresh papaya in a food processor)
2 large eggs
2 tsp lemon juice
2 tbsp honey
Method:
Preheat the oven to 200 C. Prepare an 8×8 baking dish by lining with with greaseproof paper.
With a blender/food processor, add the flour, salt and brown sugar. Pulse until combined. Add the cubes of butter and then pulse once more until the mixture resembles a coarse meal with a few larger chunks throughout. Transfer the butter and flour mixture to the prepared baking dish and press firmly so the layer is even. Place in the oven to bake for about 15 minutes, and until the edges are set.
For the filling, add the sugar, flour and salt, and mix. Whisk in the papaya puree, eggs, lemon juice and honey until smooth
Pour the filling over the crust and transfer back to the oven for a remaining 20-25 minutes. Cool in the pan on a cooling rack.