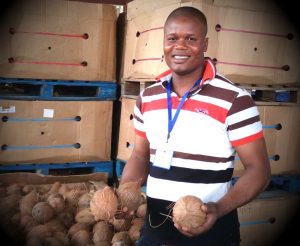 While I was recently visiting the Western Region of Ghana, I managed to meet with Abanga Asando, a young Coconut farmer who currently supplies over 45 tons of coconuts to Blue Skies each week.
Abanga first started growing coconut with the Jomoro Group and became independent in 2011 after setting up Abanga Farms.
He says that his encounter with Blue Skies has transformed his life to the extent that many people in his community are amazed at the change they have seen. The engagement with Blue Skies and the continuous benefit from the training and support they have received have helped him to deploy the best strategy to make his business life better.
Abanga and many of the coconut growers in the region have also benefited from the Blue Skies Foundation which has recently built a new clinic for the Nawule area.
He says "My prayer has always been and will always be that Blue Skies expands so we can continue to grow our agriculture and give life to the people in the agricultural sector. I will also want to thank the company for the support and encouragement that has transformed people like me and we will forever work to support this great seed to grow and provide shade for lots more Ghanaians"
By Alistair Djimatey, Blue Skies Ghana