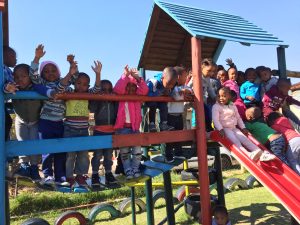 This month Denzil and Cath, from Blue Skies Pitsford, joined Waydu and Justice at Blue Skies South Africa, to visit and evaluate the impact of a number of Foundation projects and future applicants. The evaluations come ahead of the Foundation Board meeting, which will take place in Ghana next month.
The team visited two Day Care Centres where the Foundation had contributed "jungle gyms" (playground equipment). They heard first-hand, about the importance of this equipment, which has enabled those working at the centres to assess childhood developmental progress.
Following this, the team visited the newly opened Bophelong Stimulation Centre, a facility providing care for children with disabilities, where the foundation had contributed key items of kitchen and computer equipment.