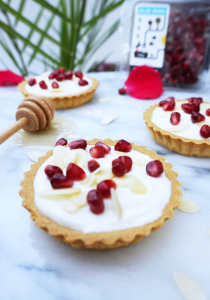 Ingredients
1 store-bought refrigerated piecrust
flour for dusting
8 oz cream cheese, softened to room temperature
8 oz mascarpone cheese
1/2 cup vanilla Greek yogurt
1/4 cup honey
2 tablespoons granulated sugar
1 teaspoon vanilla extract
1 teaspoon lemon zest
1/2 cup sliced almonds, lightly toasted
1/2 cup pomegranate seeds from Blue Skies
Method:
Preheat your oven to 200 C. Lightly dust 4, 4 to 5 inch round tart pans with flour.
Unroll pie crust onto a flour-dusted surface. Cut out 4, 5 to 6 inch rounds with a cookie cutter or anything you have on hand that's circular. Place your rounds into your prepared tart pans, pressing down on the bottom and around the sides. Prick the bottom with a fork so that the crust can breathe while it's baking.
Bake your crusts at 200 C for 10 minutes, or until golden. Remove from oven and set aside to cool.
While your shells are cooling, prepare the cream filling. In your stand mixer, with paddle attachment fixed, whip together the cream cheese, mascarpone cheese and Greek yogurt until smooth and creamy. Add the honey, granulated sugar, vanilla extract and lemon zest. Beat again until thoroughly combined.
Release the shells from their tart pans once cool.
Dollop the cream filling and smoothen out.
Before you serve, top with fresh pomegranate, sliced almonds and a drizzle of honey.