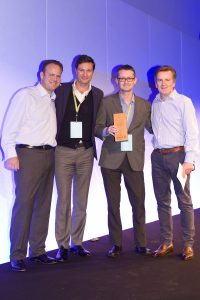 Blue Skies are honoured to have received a Waitrose Way Award for its School Farm of the Year Competition in Ghana.
The Waitrose Way Awards are held each year to acknowledge Waitrose suppliers who have demonstrated achievement in the field of Corporate Social Responsibility (CSR).
Blue Skies are a long-standing supplier to Waitrose and constantly strive to maximise sustainable benefit for the communities where it operates. The company's commitment to creating value-added products in countries where the fruit is grown and upholding a culture that encourages diversity, inclusivity and collaboration, goes hand in hand with the values of Waitrose and their commitment to treating people fairly.
This Waitrose Way Award recognises how Blue Skies in partnership with the Waitrose Foundation have attempted to address the challenge of attracting youth in to agriculture by introducing a School Farm competition in Ghana. The competition is in its third year and currently engages sixty schools in a competition to win prizes in a number of categories including Most Innovative School, Most Environmentally Friendly School and the overall School Farm of the Year.
The initiative has so far seen increased enthusiasm for farming among participants with more students taking up agricultural subjects at school, and schools able to generate supplementary income from the sale of fresh produce.
Chief Sales and Marketing Officer Hugh Pile and Brand and Communications Manager, Simon Derrick, collected the award on behalf of Blue Skies during the Waitrose Supplier Conference on the 11th of October at Newbury Racecourse.