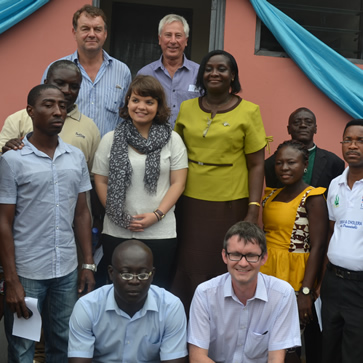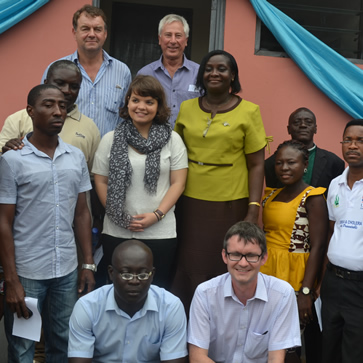 The Blue Skies Foundation has today commissioned two new projects during a visit by Board members representing Blue Skies and two European retailers, Waitrose and Albert Heijn.  
This year the Foundation is embarking on twelve projects in Ghana, Senegal and South Africa. Projects include the reconstruction of a condemned classroom block for a primary school, the construction of a KVIP toilet block for a pineapple farming community and the implementation of a campaign to reverse the negative perception of farming among school children. During their visit, the Foundation Board officially handed over a KVIP for Pakro Anglican School and a WC block for a clinic in Nsawam. They also visited a number of other projects which are in progress and due to be completed within the next few months.
The Blue Skies Foundation was founded in 2009 by Blue Skies and two of the retailers the company supplies in Europe. It aims to improve the livelihoods of the staff, farmers and the communities involved in the supply of fresh-cut fruit and juice.
To date the Foundation has funded 47 projects which include the construction and renovation of schools, clinics and KVIPs. Notable projects that have been funded in recent years include a new and Agricultural Resource Centre for the Mango Farmers in Somanya,, a multi-purpose sports facility for Blue Skies staff and members of the Dobro community, the renovation of a training centre for a clinic in Nsawam, and a 20 seater WC for Asante Ekura in Nsawam.
Blue Skies was established in 1997 in Ghana. The company employs over 2500 people in its factory near to Nsawam from where it produces fresh-cut fruit products for retailers in Europe. Its sister company, Blue Skies Juice (Ghana) Ltd, produces freshly squeezed juice products for the Ghanaian market. Blue Skies also has factories in South Africa, Egypt and Brazil.
In 2015 Blue Skies was presented with a Queens Award for Enterprise in the Sustainable Development category for its continuous achievement in the provision of fresh-cut fruit, prepared at source, and aimed at maximising the sustainability benefits created for local producers.