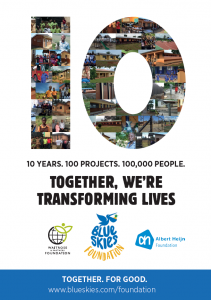 This year, the Blue Skies Foundation is celebrating its 10th Anniversary
Since the Foundation was founded in 2009, it has implemented over 100 projects which have benefited over 100,000 people in Ghana, Egypt, South Africa and Senegal. These include over 42 educational projects such as the construction of classroom blocks for schools, 39 water and sanitation projects, such as the provision of toilets and boreholes, and 10 health and wellbeing projects, such as the building of clinics and sports centres.
These projects have had many positive impacts. For instance, toilet projects have helped to significantly reduce incidents of water-borne diseases such as cholera, and classroom blocks have helped to increase attendance levels and academic performance at schools.
To celebrate, the Foundation has launched a special 10 Year Impact Report and a short film: 10 Years Transforming Lives. To download the report and watch the film, please visit our dedicated webpage at fresh.blueskies.com/foundation10
In addition, the Foundation also inaugurated one of its 2019 projects on the 18th of June; a new three classroom block for Nsumia Junior High School, located near to the Blue Skies factory in Ghana. The ceremony will be attended by the Blue Skies Foundation Board of Directors, local dignitaries and Ghana's Minister for Education, Dr. Matthew Opoku Prempeh.
The Blue Skies Foundation is a cooperation between the fresh fruit company Blue Skies, and two retailers, Waitrose & Partners in the UK and Albert Heijn in the Netherlands. Through this unique and progressive cooperation, the Foundation seeks to support the communities which participate in the production of fresh-cut fruit products that are made by Blue Skies.
The success of the Blue Skies Foundation is the work of many people, whether they be customers, farmers, community members, colleagues of Blue Skies or people who have simply taken an interest; there are countless people who have each, in their own individual way, made a vast contribution to what the Foundation is today.
Blue Skies Chairman and Founder, Anthony Pile, said "It's phenomenal what we have achieved in ten years, however we see this as part of our responsibility as members of the local community. Our unique cooperation with Waitrose & Partners and Albert Heijn helps us to focus on making sure the projects we fund are worthwhile, that they are carefully costed, and will serve our communities for a long time."