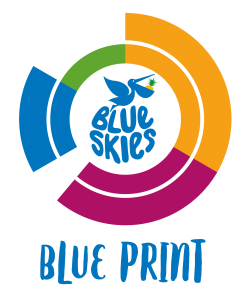 In a fast changing, turbulent world where 65 million people are displaced, poverty continues to grip 50% of the earth͛s population and climate change looms, there is now more reason than ever before for Blue Skies to be demonstrating what it is doing to balance the needs of people, planet and profit.
For this reason Blue Skies intend to set a number of ambitious goals that will truly uphold Blue Skies position as leaders in the field of sustainable development.
Called the Blue Print, it will be our plan to build our business in line with the Blue Skies values and will include specific commitments in the areas of social responsibility, environmental care and economic leadership.
But to develop our Blue Print, we need your help!
We want to ensure that the goals we set reflect the real priority areas across the business – so they have to take in to account the challenges and opportunities that exist in the different countries, cultures, and communities that we operate in.
Blue Skies is therefore asking its stakeholders to take part in a very quick survey to help us identity what these priorities should be. The survey can be accessed from the link below:
https://www.surveymonkey.co.uk/r/T7TQ5JK
It should only take a couple of minutes to complete and we would be grateful for responses to be sent by March 30th.