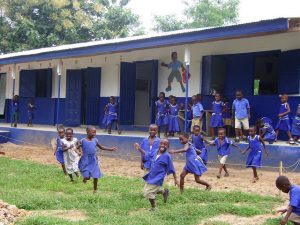 In 2010 the Blue Skies Foundation renovated a three-classroom kindergarten in the village of Seyikrom in Ghana. Sekykrom is home to 3,000 people and is located just outside the town of Nsawam in the Easter Region. Two farmers who supply Blue Skies also live in Sekykrom as well as many Blue Skies staff.
150 children attend the school which was built by the PTA in the 1970s, and had deteriorated to a very bad condition. Before the school was renovated there were no doors or windows, the floors were un-plastered and some of the walls were eroding. This is the only pre-school in Sekyikrom and was in urgent need of an upgrade in order to provide a decent learning environment to the children.
The project involved plastering the walls, constructing proper floors, fixing doors and windows and providing a toilet facility and eventually a kitchen for the children and teachers. Work started in February 2010 and was completed in June 2010. Teachers have commented that this project has enhanced the children's education by providing a more comfortable environment to learn in. The new windows and doors mean that furniture can be left in the classrooms over night rather than locked in to a store room. This leaves more time for the teachers to focus on teaching. There is also no longer the problem of rain water or lizards entering the building, so classes aren't disrupted. Teachers have remarked that since the project has been completed, more children have been attracted to the school due to its enhanced status within the community.